Border: France-Switzerland
Date(s) of establishment:
1815
Length of border:
573 km
Regions concerned:
France: Regions – Alsace, Franche-Comté, Rhône-Alpes
Departments – Haut-Rhin, Territoire de Belfort, Doubs, Jura, Ain, Haute-Savoie
Switzerland: Cantons – Basel-Stadt, Basel-Landschaft, Aargau, Solothurn, Bern, Jura, Neuchâtel, Vaud, Geneva, Valais
European programme(s):
Overview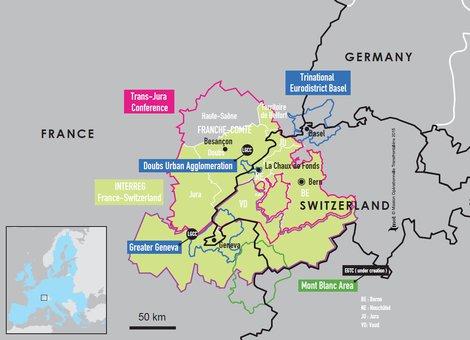 Introduction
The French-Swiss border is not a homogeneous territory. Its territorial development is organised around three major areas: the Basle conurbation, incorporated into the Upper Rhine Euroregion territory, Greater Geneva, and the Jura.
The rural and mountainous territories along the border form autonomous, separate areas, represented in bodies such as the Conférence transjurassienne and the Espace Mont Blanc. In contrast, the urban territories, organised around Greater Geneva and the Basel Trinational Eurodistrict, form highly-integrated cooperation areas. Greater Geneva, encompassing the Ain and Haute-Savoie departments in France and the Geneva and Vaud cantons in Switzerland, has made cross-border cooperation a strategic priority, with the establishment in 2013 of a Local Cross-border Cooperation Grouping (LCCG) invested with the cross-border governance of the conurbation. The Basle conurbation took the form of a trinational Eurodistrict in 2007.
These urban areas are crossing points where many French border residents cross the border to Switzerland. The flows of border workers between France and Switzerland are the highest on any French border: in 2010, 155 000 persons resident in France commuted to work in Switzerland each day. In the opposite direction, only a hundred or so Swiss residents work in France. The implications of this disparity in terms of transport, urban development, housing, employment, health, planning, economic development and other areas are at the heart of the cross-border issues of the territory.
As another consequence of the flows, a French-Genevan financial compensation system (CFFG) was introduced in 1973 in an attempt to mitigate the imbalances generated. It is a grant paid by the Republic and Canton of Geneva to the French departments in which the cross-border workers live: the incomes of these workers are taxed at the source by the Canton of Geneva, and this grant compensates the expenditure of the French local authorities on infrastructure (transport, services for border workers, etc.).
Territory projects and institutional bodies for cooperation
Institutional cooperation at the state level
Franco-Germano-Swiss Intergovernmental Commission
Cross-border cooperation at the regional level
Upper Rhine Conference
Tri-national Metropolitan Region of the Upper Rhine
Upper Rhine Council
Trans-Jura Conference
Lake Geneva Council (Conseil du Léman)
Cross-border cooperation at the local level
Greater Geneva
France-Geneva Regional Committee
Basel Trinational Eurodistrict
Agglomération urbaine du Doubs
Cooperation between protected natural areas
Mont-Blanc area
Planned French-Swiss Doubs cross-border park