Upper Rhine Conference
Countries:
Germany , France , Switzerland
Regions concerned:
France – Alsace; Germany – Baden-Württemberg, Rheinland-Pfalz (Rhineland-Palatinate); Switzerland – Cantons of Basel-Stadt, Basel-Landschaft, Aargau, Jura, Solothurn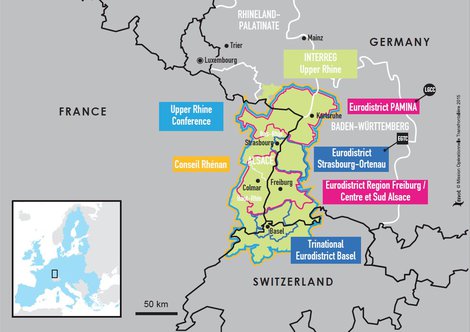 Summary
The Upper Rhine Conference, which has been in existence in various forms for several decades now, provides the institutional framework for cross-border cooperation in the Upper Rhine region at the regional level. Created in 1991, it succeeds two regional commissions derived from the Bonn Accord or Upper Rhine Agreement of 1975. Its role is to study and facilitate cross-border exchanges and the daily lives of inhabitants. The fields that it covers are very diverse: transport, the environment, culture, education, youth, health, spatial planning, training, sport, climate, mutual assistance in disaster relief, agriculture, economic policy, etc. It works under the auspices of the Franco-Germano-Swiss Intergovernmental Commission, which deals with cross-border issues that cannot be resolved by the regional level alone.