News
Launch of a working group on the ecological transition
December 2021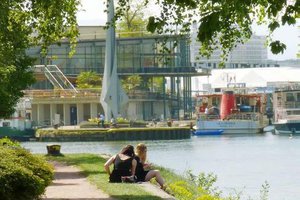 A new MOT working group was launched on 14 December 2021, with 35 participants from varied backgrounds and sectors (protected natural areas, energy, transport, etc.).
This first participative session was held under the title "Co-creating the 'Cross-border Ecological Transition' Group". It was led by two active members of the MOT network – Trinational Eurodistrict Basel and AUDAB (Besançon centre Franche-Comté Urban Planning Agency).
Its objective: to identify the challenges, the difficulties, and the keys to success to be taken into account in the implementation of cross-border projects related to the ecological transition.

Thanks to the many testimonies from participants and initial work focused on three key issues – governance, citizenship and co-development – the participants can now move forward in identifying the priority issues for the group's work during its subsequent meetings. Enough to fuel constructive collaboration for 2022!
In French only:
Présentation introductive faite par la MOT
Résultat du travail participatif en ligne
Rubrique Transition écologique et ressources en ligne sur le site de la MOT
Photo: the Rhine between Basel, Huningue and Weil am Rhein
© Hager Partner AG.
Back to list