News
A cross-border strategy for resilience to climate change in the Pyrenees
January 2022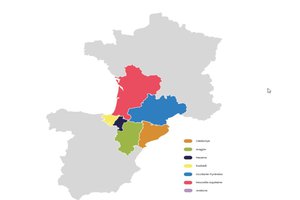 At its annual plenary council meeting on 13 December in Alp, in Cerdanya, the members of the Communauté de Travail des Pyrénées (CTP – Working Community of the Pyrenees) unveiled a new "Pyrenees Climate Change Strategy" (EPiCC).
"Each day in the Pyrenees region the scars of climate change are a little more visible, and the seven regional authorities of the CTP have decided to curb the deterioration of this ecosystem and to make their contribution to the conservation of its precious resources," declared Eva Garcia Balaguer, coordinator of the Pyrenees Climate Change Observatory, on this occasion.
Coming within the framework of the CTP's Pyrenees Strategy for 2018-2024, this "comprehensive approach" is presented as being the only one of its kind in Europe: "So far, there are no other cross-border strategies for adapting to climate change that tackle the climate challenges facing the bioregion in a cross-cutting manner," the CTP points out.
The aim of the EPiCC is more specifically to "make the Pyrenees more resilient to climate change" by 2050, through five areas of cross-border cooperation: climate, resilient natural spaces, population and territories, adapted mountain economy and governance.
This event, which marked the passing of the CTP presidency from the Generalitat de Catalunya to the Basque Country, was also the opportunity to present the work of the "Trans-Pyrenees Youth Forum", set up in October 2021, and to launch an initial call for micro-projects for the territory.

More info [FR]:
https://ctp.org/fr/euskadi-prend-le-relais-de-la-presidence-de-la-communaute-de-travail-des-pyrenees-lors-de-son-xxxixe-conseil-plenier/
https://www.opcc-ctp.org/fr/proyecto/epicc
---
* Catalonia, Aragon, Navarra, Euskadi, Occitanie/Pyrénées-Méditerranée, Nouvelle Aquitaine, Andorra.
Back to list