News
Conference on "Cross-border rail connections" on 10-11 June
June 2021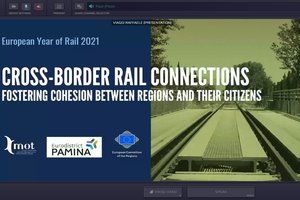 The MOT, in partnership with the PAMINA Eurodistrict and with the support of the European Committee of the Regions, held a high-level event on existing and missing cross-border rail links.
Taking place within the framework of the European Year of Rail, it enabled local, national and European rail and cross-border players to share experiences. It provided an opportunity to discuss the current challenges and obstacles regarding mobility in European cross-border territories, since no fewer than 13 EU countries were represented during the four roundtables.
The morning of 10 June was devoted to the impact of the Covid-19 crisis on cross-border rail transport. The first roundtable focused on functional urban areas with major commuter flows, such as the Øresund line (Copenhagen-Malmö) and the Léman Express. The second addressed small rail-lines that link less densely populated areas, with the focus on their needs and current economic models.
The second morning was devoted to the missing links in Europe. First of all, the social, ecological and economic issues relating to certain missing links, such as the Colmar-Freiburg or Zaragoza-Canfranc-Pau lines were presented. Designed as a response to the previous one, the fourth roundtable brought together several political decision-makers and strategic players, who set out the path towards a more connected and greener Europe. They all took this opportunity to reiterate their support for local players that wish to see an end to these missing links, and they all, like Karl-Heinz Lambertz, President of the AEBR, called for "enhanced cooperation to connect Europeans across borders".
The conference, which was simultaneously translated into three languages (FR-EN-DE) thanks to the support of the CoR, was followed by over 200 people from different European countries, including many cross-border and rail players.
More info, all documents are online
Back to list