News
The Cerdagne cross-border hospital welcomes its first patients
October 2014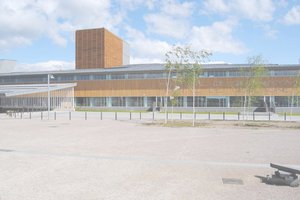 Europe's first cross-border hospital opened its doors on 19 September 2014 in Cerdanya, on the French-Spanish border.
The 68-bed facility, built on land made available by Puigcerda town council on the Spanish side of the border, meets a substantial demand for healthcare in an isolated mountain area. The area welcomes many tourists and has a resident population of 33,000 used to living together and crossing the border on an everyday basis. With French and Catalan personnel, the hospital provides the cross-border territory with important healthcare facilities such as an MRI machine and a CT scanner.
With a total initial investment budget of 31 million euros, 65% of which came from the ERDF, the project has been managed by an EGTC since December 2010.

It has taken more than ten years to make all the arrangements. Internal rules have been produced so that the EGTC can manage funds from two States and two social security systems governed by different rules and periodicities. Thus, the healthcare reimbursement procedure and the tariffs for the next five years, for example, have been defined by the statutes of the EGTC.

An informed division of the sectors has been defined, so that the best practices on each side of the border can be called upon. For example, X-ray services are provided by Perpignan hospital as a service provider, while geriatric care and rehabilitation are managed by the Cerdan health centre, a satellite unit built on the French side. This centre, managed by a GCS (health cooperation grouping) of which the EGTC is a member, also provides the logistic services for the hospital, such as housekeeping, meals, and maintenance of green spaces.
Other issues, such as births and deaths (relating to nationality and to transport of bodies) were not simple, and have only been resolved as the hospital opened. Today the mission is accomplished and the hospital bears witness to a Europe that innovates for the health of its citizens!
Read also the editorial from Catherine Barnole, Inspector-General of the Languedoc-Roussillon regional health agency.
Back to list