News
The Ardennes Department – a European and cross-border location
July 2019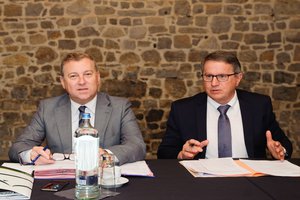 Making the most of its European location
With its 150 km-long border with Belgium, the Ardennes territory aims to become a strategic cross-border multimodal platform for the Grand Est Region and the East of Paris thanks to its transport infrastructure:
- the A34/A304 Reims-Charleville-Charleroi motorway, the new shorter and free section of the Rotterdam-Marseille route, as an alternative to the congested A1 and A31 routes.
- the high-speed TGV-Est (Paris–Charleville/Sedan), boosted by the possible reconnection to the Belgian rail network via the reopening of the Givet-Dinant line, and the Calais-Metz-Basel line, one of the main Great Britain-Central Europe rail freight corridors.
- the large-capacity river port at Givet on the Meuse, which is linked to the ports of Liège and the North Sea.
- the Ardennes-Étienne Riché Aerodrome, which is a partner of the Brussels South/Charleroi airport.
Institutional partnerships
A member of the France-Wallonia-Vlaanderen Interreg programme and an observer member of the Greater Region, the Ardennes Department is also a member of the MOT and of the Grand Est Europe Bureau. In addition to its cooperation with the Walloon regional and provincial authorities, it participates in the task force of the "Essaimage" ("Spin-Off") project of the Namur Province Economic Bureau and has been part of the "Destination Ardenne" EEIG since it was set up. It also supports the "Albatros" EEIG, the only cross-border structure devoted to disabled people.
An "Ardennes Compact"
Signed in March 2019 by the Government and the main stakeholders in the Ardennes, including the Department, the Ardennes Compact aims to "make the Ardennes a department of the future". Among its 71 action points, 4 are cross-border in nature:
- Developing a rail public transport offer between Namur and Reims via Givet and Dinant;
- Improving public transport links from the Ardennes to Belgium and Luxembourg;
- Hosting Belgian junior hospital doctors in the Ardennes;
- Setting up a cross-border information point.
More info [FR]

Photo: Noël Bourgeois, President of the Ardennes Departmental Council (on the right) and Denis Mathen, Governor of the Province of Namur.
Back to list