News
Study for a France-Brazil cross-border house
May 2014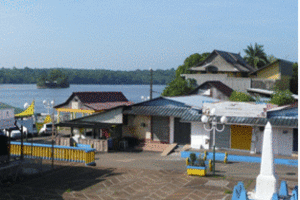 At the request of the French Guiana Chamber of Commerce and Industry, between September 2013 and March 2014, the MOT carried out a preparatory study for a France-Brazil cross-border house.
During two assignments to French Guiana and Amapá (Brazil), the MOT team questioned more than 50 French and Brazilian players in order to determine the activities and services provided by the future cross-border house, the partners involved and their respective roles, the target audiences and the technical and financial resources to be mobilised to set up the project.
The border between French Guiana and Brazil is little-known and for both countries is one of the borders where there is the least cooperation. At once "porous" and "impermeable", European and South American, it is a complex border that is confronted with the problem of unauthorised crossings, which regularly interfere with the shared cross-border vision of players on either side.
In spite of weak economic ties and inadequate transport infrastructures, informal cross-border relations abound and contrast with the formal and institutional approach.
The lack of understanding of one another that was noted in the "assessment and interviews" phase of the study fosters a negative vision that makes it difficult to implement sustainable projects.
It was against this backdrop that the MOT proposed the creation of a multi-site cross-border house (at Cayenne, Saint-Georges and Macapa) operating as a network and at different levels (local, regional and international). The facilities would provide not only economic information but also information on many different topics: administrative standards and institutions in the neighbouring country, training courses, tourism, culture and cross-border cooperation, etc. The services provided to the public might take the form of bilingual brochures, a personalised service and the organisation of events.
Back to list