News
MOT study for the Lille Metropolis Development and Urban Planning Agency: the impacts of the pandemic on the cross-border area
January 2022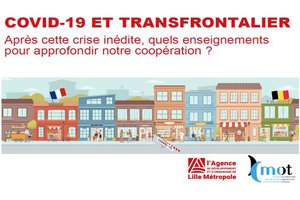 Between June and September 2021, the MOT was commissioned by the Lille Metropolis Development and Urban Planning Agency (ADULM) to conduct an analysis of the consequences of the border restrictions in the territory of the Lille-Kortrijk-Tournai Eurometropolis. The aim was to identify the issues highlighted and revealed by the crisis and the brakes on/levers for the development of the cross-border territory.
This work was structured around three exercises:
A retrospective analysis of the phases of the pandemic and the evolution of the regulatory measures taken on both sides of the border.
An online survey addressed at the general public, businesses and local retailers via the Eurometropolis network.
A comparison of the measures taken on the Franco-Belgian border relative to other French and European border territories, focusing on areas of continuous cross-border conurbations.
It was complemented by a series of interviews conducted by the ADULM with the mayors and burgomasters along the border.
The main conclusions to be noted were subsequently highlighted by the ADULM, around the four following points:
A hitherto porous border has reappeared.
The resilience of cross-border practices.
The mobilisation of border municipalities to inform citizens and facilitate procedures for them.
Real impacts on cross-border cooperation.

More info on these conclusions [FR]
More info on the study carried out by the MOT [FR]

Back to list