News
Editorial from Dr. Katharina Erdmenger, Head of Division, Deputy Director, European Territorial Cohesion Policy, Federal Ministry of Transport and Digital Infrastructure, Germany
October 2016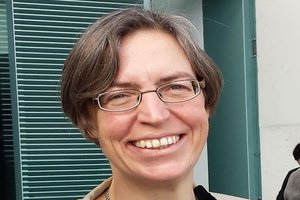 New "Guiding Principles" for Germany's territorial development were adopted in March 2016, which are in line with the idea that "Germany is not an island".
The geographical diagram* that illustrates this new strategy does not stop at Germany's borders: it includes the cross-border metropolitan regions and the major transport routes, and puts the territory's "functional" relationships with cross-border potential at the heart of all thinking about regional development.
Since the integration of the European market in 1957, cross-border employment and trans-European transport and energy networks have grown considerably. Territorial development can no longer be satisfied with a purely national perspective. To the west of Germany, territorial relations have existed for decades with our French, Swiss, Luxembourg, Belgian and Dutch friends and we work together to develop harmonious border regions.
Many challenges and obstacles to continuing in this direction remain. That is why the German federal government is working on pilot projects** to contribute to cross-border territorial development. The future of our European regions will be determined by what they have in common, not by what divides them. At the present time, nothing is more important than building Europe where it is visible for its citizens: where they live, where they go to work, whether they look for a school for their children. If all this can be achieved on either side of a border… that's Europe!
* Click here to download it.
** "MORO" projects, further information here.
Read the article: "Cross-border cooperation in Germany's territorial development policy"
Back to list