News
Editorial by Jean Rottner, President of the Grand Est Region
February 2020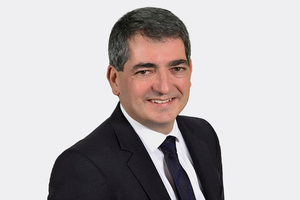 Territorial authorities' new place in in cross-border cooperation: passed with flying colours!

"Last year, 2019, was a crucial one for the shaping of the future of cross-border cooperation. With the signing of the Aachen Treaty and the setting-up of the Cross-Border Cooperation Committee, the Franco-German Council of Ministers and the Franco-German Parliamentary Assembly, many new areas of work were initiated in 2019.
Thanks to the creation of the diplomatic tandem between the President of the Grand Est Region and the Prefect of the Region within the framework of the Matignon Declaration, the Grand Est Region is now a fully-fledged participant in the diplomatic discussions to champion the interests of the territories.
In 2020, we therefore need to turn our aspirations into decisive action and to bring to these unprecedented tools in Franco-German cooperation clear objectives and concrete methods to achieve clear results: cross-border mobility, the post-Fessenheim redevelopment, cross-border apprenticeships, giving impetus to the border attractiveness zone – many areas that require coordination and operational construction.
Taking concrete action – that is the task of cross-border diplomacy in 2020. Fortunately, the Grand Est Region did not wait until this year to initiate genuine, effective and operational cooperation with its border partners.

Already in 2019 a unique cooperation agreement, both in terms of its scale and its territorial scope, was reached with the three neighbouring German Länder (Saarland, Rhineland-Palatinate and Baden-Württemberg), with the joint purchase of rolling stock comprising 30 cross-border trains, at a cost of €370 million.
Today, cross-border cooperation must go beyond the current bodies and have a fresh perspective on the cross-border territories, and thus go beyond the current territorial cooperation structures (the Upper Rhine, the Greater Region and the Franco-Belgian Ardennes). The creation of the European Artificial Intelligence Valley is a superb example of this, promoting scientific and economic cooperation from Switzerland up to Belgium.
Backed by a proactive trinational strategy by Paris, Brussels and Berlin, the Grand Est Region intends to vigorously champion the interests of the cross-border territories at regional, national and European level.
I am thus calling on all of those who support the cross-border and European cause to join us in this endeavour.
And of course I am counting on the MOT to support us in our projects!"
---
Read the article : "Aachen Treaty - First meeting of the Cross-Border Cooperation Committee"
Back to list