News
Aachen Treaty - First meeting of the Cross-Border Cooperation Committee
February 2020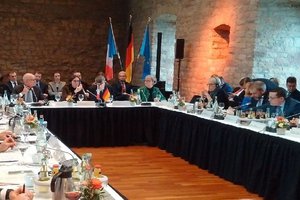 One year on from the signing of the Aachen Treaty, a Franco-German "Cross-Border Cooperation Committee" was officially established, in Hambach, on 22 January 2020, in the presence of the German Deputy Minister of Foreign Affairs, Michael Roth, and the French Secretary of State in charge of European Affairs, Amélie de Montchalin. Its objective is "to overcome everyday border problems by means of concrete and reproducible solutions".
To do this, the Committee will adopt an annual roadmap and bring together at least once a year representatives of the French and German interior and foreign affairs ministries, as well as its local executive members (Länder, Region, Departments and Eurodistricts).
It looks "as a priority at issues relating to cross-border cooperation that the existing bodies have not been able to resolve, and whose resolution requires increased cooperation". To this end, it needs "to coordinate cross-border territorial observation, set out a joint strategy for the choice of priority projects, analyse the impact of new legislation on territories, monitor the difficulties encountered in border territories and put forward proposals aimed at overcoming them".
The Committee can set up targeted working groups and has the ability to propose that legislation be adapted. It has identified 12 obstacles to overcome, including six priority ones relating to healthcare, cross-border apprenticeships, marathons (with respect to medical certificates), school trips, the "Crit'Air" windscreen disc and tax issues relating to labour law.
The MOT, which is highly involved in the process, is involved notably in providing legal assistance to French and cross-border players along the Franco-German border, in monitoring the process at national and European level (ministries and Parliament), and the collating of the needs and experiences across all of France's borders, together with its members.
---
Read the éditorial by Jean Rottner, President of the Grand Est Region: "Territorial authorities' new place in in cross-border cooperation: passed with flying colours!"
Back to list