News
Conference in Paris on cross-border healthcare
January 2015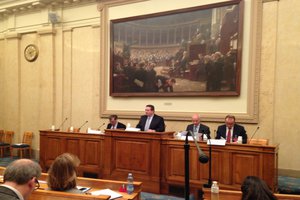 On 10 December 2014, the conference entitled "What solutions for cross-border healthcare?" took place at the Assemblée Nationale in Paris. Organised by the Assemblée Nationale's "Border Regions and Workers" study group, with support from the MOT, this conference brought together cross-border healthcare experts and elected representatives from all of France's border areas.
In their introduction to the conference, Jean Peyrony, the MOT's Director-General, and Philip Cordery, the MP for French nationals in the Benelux and Chairman of the study group, highlighted the important role of MPs in improving public policy for the benefit of citizens. Lawmakers need to work towards the removal of obstacles in the area of cross-border healthcare.

A first roundtable devoted to healthcare cooperation between France, Belgium and Luxembourg explained the process of setting up and operating Organised Zones of Access to Cross-Border Healthcare (Zones organisées d'accès aux soins transfrontaliers – ZOAST), which currently cover five areas that provide patients with continuity of care between France and Belgium.
The second roundtable focused on the French-Spanish border and the functioning of the hospital in Cerdanya, Europe's first cross-border hospital, which opened in September 2014 and which has made major efforts to ensure the compatibility of medical procedures.
The third roundtable presented projects on the French-German and French-Swiss borders, notably the difficulties encountered since the calling into question of the Swiss-EU agreements (the vote of 9 February 2014). The issues relating to the end of the system of the right to choose one's health insurance for cross-border workers in Switzerland were also highlighted.
In the presence of Agnès Monfret, Head of Unit in the European Commission's Regional Policy DG, the discussions made it possible to identify numerous obstacles and problems that need to be overcome in the area of cross-border healthcare, for example the question of the nationality of children born on the other side of the border or the need to sign bilateral agreements for the cross-border transportation of the remains of deceased people. They also stressed that France's 2015 Healthcare Act could be an opportunity for better account to be taken of the cross-border dimension in healthcare.
NB: On 7 October 2014 in Brussels, a seminar was held on French-Belgian healthcare cooperation: proceedings online.


Back to list