News
The Energy Transition Conference
February 2019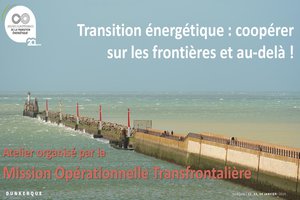 The 2019 European Conference on the Energy Transition took place on 22-24 January in Dunkirk, bringing together nearly 3,500 participants around the topic "Committed and mutually-supportive territories". The MOT contributed to the discussions by organising a workshop illustrating three very concrete examples of cross-border cooperation in the area of the energy transition.
The Dunkirk Urban Community was represented at the MOT's workshop by Sylvie Delatte, Director of International and Port Strategy. Within the West-Vlaanderen/Flanders-Dunkirk-Côte d'Opale EGTC, the energy transition is addressed from the angle of low-carbon mobility. Through joint planning of cycle paths and greenways crossing the Franco-Belgian border, the primary objective is improving air quality – a priority in an industrial port town like Dunkirk. Michel Derdevet, Secretary-General of Enedis, also participated in the workshop. He is the author of a report entitled "Energie, l'Europe en réseaux - Douze propositions pour une politique commune en matière d'infrastructures énergétiques" ("Energy, Europe in networks – Twelve proposals for a common policy for energy infrastructures") that was submitted to President François Hollande in 2015. This report aimed to strengthen economic and industrial cooperation, particularly within the Franco-German partnership, in the area of European energy networks. Supported by the European Commission, the Smart Border Initiative project between Saarland and Lorraine is a tangible result of this cooperation.
Sébastien Douche represented the Metz Metropolis, a territory that is fully committed to the energy transition and which is actively participating in projects that enable the sharing of good practices in this area. Its exchanges with the German city of Worms, within the framework of the TANDEM project, have prompted economic agents in Metz to take a genuinely fresh look at their practices.
The discussions with the audience benefited from different local experiences (Pyrénées Orientales, Auvergne-Rhône-Alpes, etc.) that highlighted obstacles, often administrative in nature, resulting from the large number of players on the French side compared with the neighbouring countries, as well as putting forward proposals, such as the creation of new tools for micro-projects tailored to the needs of rural and mountainous areas, where the way Interreg functions is often regarded as too complex by project developers.
Back to list