News
In Morteau, the MOT network calls for greater recognition of "cross-border living areas"
October 2021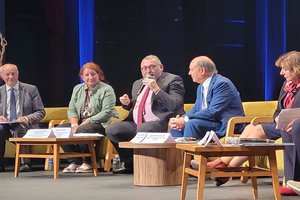 In the presence of Joël Giraud, Minister of State for Rural Affairs under the Minister for Territorial Cohesion and Relations with Local Government, more than a hundred participants from all of France's borders gathered for the MOT's general assembly on 21-22 September in Morteau and La Chaux-de-Fonds, at the invitation of the Doubs Urban Conurbation.
"I know your commitment and the MOT's missions: to support cross-border territories and to promote their collaboration as a network and their recognition. This is crucial work. Your role should be better recognised," the Minister of State underlined in his speech.
Indeed, the discussions highlighted the need of players on the ground to see better account taken of their cross-border issues, and their wishes with respect to the "3DS" bill – an opportunity that the network has not failed to seize by putting forward concrete proposals, like explicitly mentioning "cross-border living areas" or designating "national coordination points".
The location in which the assembly took place the field visits organised for the participants illustrated the concrete reality of the Franco-Swiss Jura Arc shared living area.
The four roundtables highlighted the experience of other cross-border territories with respect to the issues that they have in common. The first asked the question of how to reconcile residential attractiveness and preservation of natural resources; the second that of the economic recovery: can it be cross-border and mutually supportive?; while the third, which elicited many questions from the audience, was devoted to cross-border citizens' and territorial inclusion. The fourth roundtable addressed mountain-related issues, and took place in the presence of the Doubs MP, Annie Genevard.
These discussions can be (re)watched on the MOT's YouTube channel, as can the meetings of its bodies, which presented an assessment of the past year, approved the activity and financial reports, and elected the new representatives on the association's Board.
More info [FR]
Read the editorial by Christian Dupessey, Mayor of Annemasse, President of the Metropolitan Pole of the French Genevois, re-elected the MOT's President
Back to list