News
Field visits: the MOT's network in Alzette-Belval
March 2017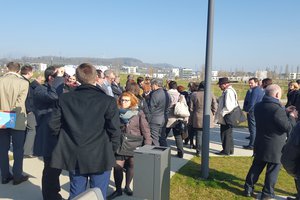 The field visits offered for the first time to participants in the MOT's 2017 general assembly, to Belval and Villerupt, proved to be a moment of very fruitful exchanges.
Daniel Codello, Vice-President of the Alzette-Belval EGTC and Alderman of Esch-sur-Alzette, welcomed the participants on the site of AGORA, the company in charge of the redevelopment of the Belval brownfield where the blast furnaces were, stating that "those who believed in it were right to do so". Yves Biwer, AGORA's administrative director, explained the history and stages involved in the redevelopment of the site since 1997, the year in which the blast furnaces stopped operating, before taking the participants to Belval Park and to the edge of a newly built quarter. The 120-hectare site presented has so far had 40% of its area redeveloped and work is due to continue on its development until 2027.
On the French side, only a few minutes from Belval, Alain Casoni, the Mayor of Villerupt, a member of the Alzette-Belval EGTC, presented the site as "a place of mingling and immigration, steeped in the values of solidarity, social progress and dignity, built on a unique past and looking forward to a common future".
Jean-Christophe Courtin, Director-General of the Alzette-Belval public development office, presented, for the French part neighbouring Belval, the redevelopment of the 45-hectare site in Micheville, declaring that "cross-border cooperation is inevitable because the proximity of the sites makes it a single conurbation".
Lastly, there was a presentation of the Alzette-Belval EGTC. Set up in order to provide a permanent tool to strengthen the cross-border partnership, its mission is to facilitate and increase cooperation between players in the territory from both the public and private sectors. It encompasses eight French municipalities and four Luxembourg ones and positions itself as a place of territorial governance to ensure the coherence of strategic actions, but also as a development tool to foster local projects. Its actions are focused on informing citizens, communicating local expectations to the French and Luxembourg authorities (for example in the fields of healthcare, transport and vocational training), and the implementation of civic projects in areas such as school exchanges and cross-border sporting events, etc.
The exchanges were concluded by Véronique Guillotin, Vice-President of the Grand Est Region.
More information and the presentations online [FR].
Back to list