News
Towards a Franco-Luxembourg cross-border development zone?
November 2022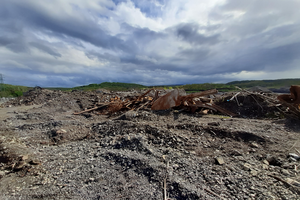 The Terres Rouges slag heap is a strategic site for the Alzette-Belval territory.
A binational and cross-border site of more than 70 ha located on the French-Luxembourg border, the Terres Rouges slag heap, whose sole owner is the Arcelor Mittal group, is currently operated as a slag heap. Although located in the heart of an area of intense territorial development, the Terres Rouges slag heap site faces a large number of obstacles linked precisely to its binational nature, which it faces in its development under double legislation, Luxembourgian and French.
To answer these legal questions and questions relating to the operational set-up, the Etablissement Public d'Aménagement Alzette-Belval* has selected the consortium formed by the MOT, the Luxembourg consultancy Zeyen+Baumann and the urban planning agency Agape, whose mission began in September 2022. After an initial inventory phase, the consortium will consider the options for project management and the action plan to be implemented. The results are expected in 2023.
---
* Within the framework of a cross-border consortium with the Luxembourg Ministry of Energy and Spatial Planning and the City of Esch-sur-Alzette.
Photo: Alzette Belval EGTC

Back to list