News
A cross-border IBA for the Greater Region?
March 2023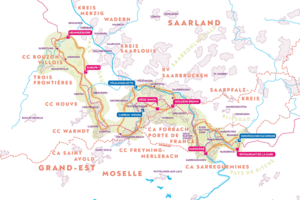 Following the model of the IBA that has been set up in Basel, a laboratory workshop has been commissioned by the Saarland to study the feasibility of an "Internationale Bau Austellung" (International Architecture and Urban Planning Exhibition) in the Greater Region.
The laboratory, which was set up at the Saarland University of Applied Sciences (Htw Saar), proposes the creation of a platform that would initiate and support regional IBAs.
The first regional IBA will be set up in 2023 on the German-French border between the Moselle and Saarland. Under the motto "(but) we have to cultivate our garden", this border area will be seen as a garden that neighbors will have to sow and protect together before they can harvest. In accordance with the experimental clause of the Aachen Treaty, cross-border infrastructure projects are to be developed here over a period of ten years.
The widely perceived need for a change of era will play a key role in the fields of energy, mobility, food supply and construction and will require exceptional measures. As a tool for cross-border transformation, this IBA will be more than just a construction exhibition. It will help to establish a new way of building, which requires high quality projects with a carbon footprint that respects the environment. This applies to existing buildings as well as to the desired infrastructure. The political partners are the Saarland, the Grand-East Region, the Moselle Department as well as the EPCIs and municipalities of the region.
Back to list