News
A "roadmap" for cross-border cooperation
January 2023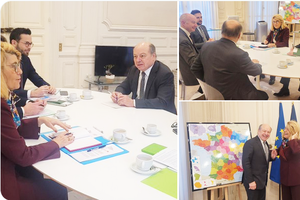 On the agenda of the working meeting between the MOT and minister Dominique Faure: A "roadmap" for cross-border cooperation
On January 10th, 2023, MOT president Christian Dupessey*, accompanied by director-general Jean Peyrony and secretary-general Aurélien Biscaut, were invited to a work meeting by minister Dominique Faure**.
This was an opportunity to discuss cross-border living areas as well as the concrete implementation of the "roadmap" announced by the minister at the MOT general assembly in Bayonne on October 5th of last year, designed to "perfect the national information and technical support system offered to local authorities on cross-border issues". This roadmap will be prepared to be presented at the MOT general assembly on June 27th in Metz.
More information in the press release following the general assembly 2022.
---
* Mayor of Annemasse, President of the Metropolitan Pole of the French Genevois
** Deputy Minister to the Ministry for Ecological Transition and Territorial Cohesion in charge of Local Authorities and Rural Affairs
Back to list