News
A cross-border hospital faced with the crisis
September 2020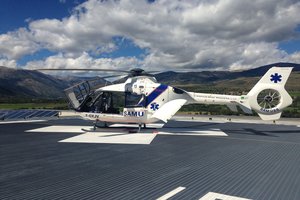 At the "10 years of the EGTC Platform" (RT#3 of the Borders Forum), an emblematic example in Europe will be celebrated: the Cerdanya Cross-Border Hospital EGTC, with the participation of François Calvet, Senator for the Pyrénées-Orientales Department and President of its support committee.
At the height of the health crisis, this, the first cross-border hospital in Europe demonstrated the benefits and effectiveness of cross-border cooperation in the area of healthcare.
The hospital distinguished itself in the way it managed the crisis thanks to a considerable asset: its dual nationality. It showed that cross-border movements in the area of healthcare are necessary.

The facility, which is co-administered by the Generalitat of Catalonia and the French Ministry of Health, falls entirely within the competence of cross-border cooperation: a first in Europe. Located in the Spanish municipality of Puigcerdá, a few kilometres from the border, since its opening in 2014 it has considerably improved the provision of healthcare in a remote cross-border area.
Since then, the health crisis has had dramatic consequences for hospitals and Cerdanya Hospital in particular, which had to deal with the closure of the Franco-Spanish border, a shortage of personal protective equipment (PPE) for medical staff and of beds in intensive care units (ICUs) in patients' referral hospitals. In this context, having dual nationality proved to be a valuable asset in dealing with these obstacles.
Faced with the closure of the Franco-Spanish border, the hospital and the police, both Spanish and French, reached an agreement to set up a transit route to enable the free movement of medical staff and patients. During the whole of the crisis period, ICU beds in the Ariège Valleys Hospital in Foix, on the French side, were made available for Spanish patients in a critical condition. In normal times, patients that need to be transferred are sent to hospitals in the patient's home country.
Access to protective equipment and to Covid tests was also facilitated throughout the pandemic thanks to the provision of PPE by the two health authorities (ARS Occitanie and Servei Català de la Salut), thereby ensuring uninterrupted supply and complete control of the situation. More than ever, the hospital's dual nationality has been an asset in managing this unprecedented crisis.
Learn more about Cerdanya Hospital's experience during RT#3 of the Borders Forum: consult the programme.
Back to list