News
Three questions to Vincent Gross, Delegate General of the Lorraine Corridor European Metropolitan Pole
September 2020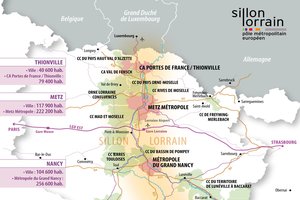 What territorial and cross-border issues will you raise at the roundtable you are taking part in at the Borders Forum?

With over 105,000 cross-border workers working in Luxembourg (up by 5,000 every year) and crossing the border twice a day, a major reflection with our neighbour about issues of accessibility and mobility requires joint and balanced responses.In addition, the Covid crisis has exacerbated the effects of globalisation, particularly with respect to the movement of goods and services: the logistics platform in Bettembourg, the terminus of the Silk Road, and the 23 weekly round trips of Cargolux, have meant that, in a certain sense, China has become the first country with which the Grand Est Region has a border.
For the Lorraine Corridor, we therefore need to develop the basis of a co-development project with Luxembourg that makes it possible for both sides to contribute fairly to a collective effort.

What has been the impact of the health crisis on your territory?
In order to manage the health crisis, it was decided to immediately close the borders, except for cross-border workers. Luxembourg provided 50 face-masks to each cross-border worker while France was coping with a shortage of them. Luxembourg's wish to maintain income tax for cross-border workers working from home, for an unlimited period (with the approval of the French authorities) provoked some strong reactions. New rules that cover these kinds of remote working need to be put in place, in a rationale of co-development that benefits both the country of residence and the country of work.

What cross-border cooperation measures regarding movement were taken during the Covid-19 crisis?

Lorraine was one of the original territories for the construction of economic Europe: it has discovered to its expense that, without the development of European social and healthcare policies, the old nationalist reflexes risk weakening cross-border cooperation.
Even though there was available capacity, only seven Covid patients were received by Luxembourg and were mainly treated by French cross-border medical staff. During this time, high-speed trains were requisitioned to take patients to the west or south-west of France in order to ease pressure on hospitals in the Grand Est Region…
Learn more about the experience of the Lorraine Corridor European Metropolitan Pole during RT#6 of the Borders Forum: consult the programme.
Back to list