News
Overcoming the obstacles to cross-border cooperation: the MOT's position within the framework of the DG REGIO's "Cross-Border Review"
January 2016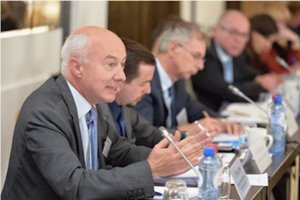 Since September 2015, DG REGIO's cross-border cooperation unit has been carrying out a large-scale initiative known as the "Cross-Border Review" aimed at analysing the administrative and legal obstacles that persist along the European Union's internal borders.
It is structured around three sequences:
1. carrying out a study in order to draw up a critical inventory of obstacles;
2. a public consultation (see below);
3. four workshops involving experts (with the MOT having participated in the first two, in September 2015 and January 2016).

The public consultation "Overcoming obstacles in border regions" conducted between September and December 2015 gathered more than 620 responses, each identifying three obstacles and three solutions. The MOT invited the whole of its network to take part in it; it also responded directly, as well as with the European network the CECICN.
It highlighted three groups of obstacles:

obstacles linked to the border separating two national systems (political/institutional, technical/administrative/functional, economic, etc.)

obstacles linked to borders separating two communities (lack of individual connections, of shared knowledge and vision, etc.)

obstacles linked to the complexity of European programmes and the lack of synergies with local, regional and national policies.
Among the solutions, it recommends notably:

improving cooperation between countries and, in each country, taking greater account of the impact of new legislation on cross-border territories, and that national elected representatives play a more active role regarding these issues;


at the European level, that account be taken by sectoral policies of the cross-border dimension, the continuation of Interreg programmes on all of the EU's internal borders, better integration in these programmes of the local and regional players (territorial authorities, cross-border groupings, etc.), as well as the creation of relevant European tools such as that proposed by Luxembourg's presidency in 2015;



in border regions, encouraging exchanges between populations on either side of the border, promoting mobility, and encouraging people to learn the language of the neighbouring country, etc. in order to contribute to the development of cross-border European citizenship.
Download the MOT/CECICN's contribution: short version – long version.
More info on DG REGIO's website.


Back to list