News
Signature of the "Greater Geneva Territorial Project 2016-2030"
December 2016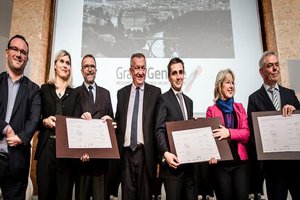 Nearly 200 people gathered on 8 December 2016 in Geneva for the signature of the "Greater Geneva Territorial Project 2016-2030", a third generation conurbation project: "We want to move from a financial rationale to a common political vision. We want to make Greater Geneva a collective, shared project that is led by the territory's citizens and stakeholders. We want to work towards the concrete and effective realisation of projects."
All of the French, Genevan and Vaudois partners have committed themselves to a common political vision and a series of projects designed over the coming years to shape the face of the cross-border territory, in areas as crucial as transport, territorial development and the environment. Several objectives have been set out:
To reinforce the territorial structure of the French-Vaud-Geneva conurbation, anchored in the landscape and based on an urban framework closely coordinated with the overall transport network;
To take ownership of the dynamics of Greater Geneva by aiming for the best territorial balance possible within its perimeter;
To implement joint cross-border actions that benefit all of the populations in the cross-border area.
In terms of transport, the territorial project enables Greater Geneva to make an application to the Swiss Confederation in respect of the third generation of conurbation projects (Projets d'agglomération – PA3). For the four-year period 2019-2022 (tranche A of the PA3), the French-Vaudois-Genevan partners have therefore decided to present a reduced list of measures that are the subject of a request for co-funding. The third generation conurbation project contains 167 measures, of which 42 are eligible for co-funding from the Swiss Confederation in respect of tranche A. They represent a total investment cost of CHF 623.43 million (for "A" measures), of which 56% is allocated to public transport (trams and buses).
To support the area's infrastructure, the territorial project is accompanied by a four-year work programme in the fields of transport, the environment, territorial development and social cohesion.

More info [FR]

Back to list