News
Meeting of the Franco-German Cross-Border Cooperation Committee
March 2022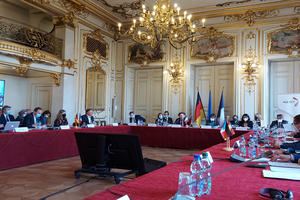 The Franco-German Cross-Border Cooperation Committee met on 12 March in Strasbourg, under the co-chairmanship of Clément Beaune (France), Minister of State for European Affairs, and Anna Lührmann, Minister of State for Europe and Climate (Germany). The MOT officially took part in the meeting as a Committee "expert".
"In the context of the war in Ukraine, we can never stress enough the historical importance of Franco-German reconciliation for peace in Europe," declared the German Minister on this occasion.
We may recall that the role of the Committee, within the framework of the implementation of the Franco-German Aachen Treaty, is to promote resolution of the obstacles encountered in the daily lives of citizens living in the Franco-German border region.
Back to list