News
Results of the first Franco-German spatial planning pilot project (MORO)
January 2023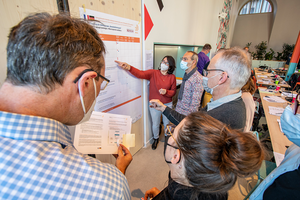 On December 14th, 2022, the closing conference of the first Franco-German spatial planning pilot project (MORO) was held in Strasbourg, with Jean Peyrony, director general of the MOT, and other experts sharing their knowledge at several round tables.
MORO projects have been an important instrument of federal spatial planning in Germany for 25 years, as they allow regions and municipalities to test tailor-made approaches and tools with federal support. The pilot project, which was supported equally by German and French partners*, aimed to bring the spatial planning cultures of France and Germany closer together.

The gaps in cross-border spatial planning and the challenges of territorial integration of cross-border regions were the starting points for the French-German MORO project initiative. The working process was based on the Planspiel method (simulation games) applied to border living areas, and more precisely to two territories: the Upper Rhine and the Greater Region.
The objective of the Upper Rhine Planspiel, piloted by the Grand Est region, was to strengthen the economic attractiveness and benefit from the development potential of the territory. To this end, a first phase consisting of Franco-German political sponsorship following a "policy of small steps" was proposed.
The Greater Region Planspiel aimed to build a framework for the development of a cross-border conurbation concept for the SaarMoselle Eurodistrict in order to better integrate territorial development. It was led by the Saarbrücken Regional Association. The discussions of this Planspiel were informed by the results of a comparative study, to which the MOT contributed, on the management of large-scale commercial projects, which aimed to identify the differences and similarities in the legal framework for development projects in France and Germany. Existing cooperation structures will play an important role in the development of such an agglomeration project, and the human and financial resources obtained through the European Grouping of Territorial Cooperation (EGTC) will also be essential.

The Planspiele for the two territories took place in autumn 2021, approximately one year before the closing conference, which was aimed at experts from local and territorial authorities as well as all political representatives concerned by the planning issues of a cross-border or inter-territorial territory (InterSCOT approaches). On this occasion, the results and recommendations for action were presented and discussed with the participants during three thematic round tables and one reflective one. The event was an opportunity to understand the richness of the approach and to discover the recommendations that came out of it.

More info
---
* On the German side: Federal Ministry for Housing, Urban Development and Building (BMWBS), Federal Institute for Research on Building, Urban Affairs and Spatial Development (BBSR). On the French side: Agence nationale de la cohésion des territoires (ANCT), Région Grand Est, Collectivité européenne d'Alsace, Eurométropole de Strasbourg.

Photo: ADEUS
Back to list