News
Resolution of the European Committee of the Regions (CoR): "On a vision for Europe: the future of cross-border cooperation"
September 2021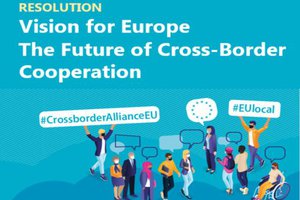 Adopted on 1 July, this resolution constitutes an official contribution from the CoR to the Conference on the Future of Europe. It sets out the concrete proposals of the CoR and the European Cross-Border Citizens' Alliance (AEBR, MOT and CESCI) to put cross-border cooperation back at the top of the EU's policy agenda after a year disrupted by the pandemic.
The resolution calls on the European Commission to present a proposal for maintaining land and maritime cross-border cooperation and cross-border life in the event of an EU-wide or regionalised crisis.


Among the main points highlighted:
A review of the existing legislation and treaties is needed in order to improve their implementation and to enable more effective cross-border cooperation.
Regarding cross-border governance, it is crucial that cross-border structures, such as Euroregions and EGTCs, be given a more prominent role to facilitate the setting-up of joint cross-border projects. This requires in particular that all European Commission services be aware of the existence of cross-border structures, especially EGTCs.
In its resolution, the European Committee of the Regions also regrets that the discussions on the proposed European Cross-Border Mechanism (ECBM) have failed, as many legal and administrative obstacles continue to put serious limits on cross-border cooperation and the quality of life of citizens living in border regions.
The CoR is therefore calling for a new Commission initiative to revise the ECBM regulation that takes into account issues raised by Member States.
Back to list