News
Mulhouse and Switzerland: 500 years of history in common
March 2015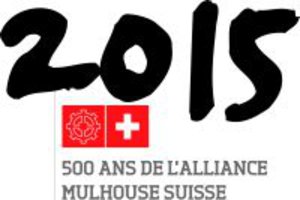 2015 marks the 500th anniversary of the alliance between Mulhouse and the Swiss Confederation. An occasion to throw light on the strength of the historical links as the roots of today's cross-border cooperation and to celebrate the event by making 2015 "The year of Switzerland in Mulhouse".
A brief historical review: In 1515, Mulhouse signed a defence alliance treaty with the 13 Swiss cantons, an alliance that it maintained during the subsequent centuries, along with actively cultivated economic, intellectual and religious links. In 1798, following the customs blockade which paralysed the city, the Republic of Mulhouse voted to join the fledgling French republic.
To celebrate these still-relevant links between Mulhouse and Switzerland, a series of listed activities is offered to the citizens. The aim is to promote Switzerland and its relationship with Mulhouse through a programme of events, including exhibitions of Swiss heritage and contemporary artists, Swiss author cafés, participation of Swiss bands in the Carnival, company meetings, and conferences focusing on the economy and the potential for cooperation between the two territories.
A novel treasure hunt, the "seal through time", has been created for the event. Starting on 10 April, it poses a series of riddles to solve based on major events or anecdotes that have marked the history of Mulhouse and Switzerland, leading up to the final discovery in the summer of a seal hidden in Mulhouse.

A novelty: Guided tours of Mulhouse are available in German each month so that the Basle public can get to know more about the links between the two cities.

Information: +33 (0)3 69 77 77 30
More info on the websites of:
- the city of Mulhouse
- the Canton of Basel-Stadt
Read the editorial from Jean Rottner, Mayor of Mulhouse: "The EuroAirport, a "French-Swiss success story"
Back to list