News
The "Espace Mont-Blanc" refines its strategy for adapting to climate change
June 2020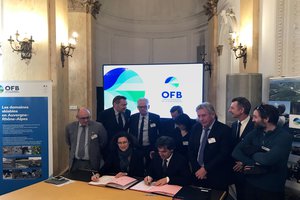 Drawing on 29 years of cross-border cooperation, the "Espace Mont-Blanc" ("Mont-Blanc area") on the Franco-Italian-Swiss border is striving to adapt its territory by seeking joint responses to the impacts of climate change.
Climate change goes beyond geographical borders and requires a comprehensive and scientific approach to overcome the "criticalities" and arrive at joint responses. Although mitigation measures are coordinated at national and international level, adaptation measures are responses to local issues linked to the territory's cross-border location.
The visit to Chamonix by President Emmanuel Macron in February was a chance to highlight the rapid melting of the glaciers, and in particular of the Mer de Glace. This visit provided the opportunity for the French mayors in the Espace Mont-Blanc to co-sign a charter with the Minister of State for the Ecological and Inclusive Transition, Emmanuelle Wargon, for the protection of Mont-Blanc that sets forth good environmental practices for the territory.
The Charter [FR] – The Espace Mont-Blanc climate report [FR].
The cross-border strategic project AdaPT Mont-Blanc also sets out planning and management tools for the territory.
Although the current health crisis has slowed cross-border exchanges, the Espace Mont-Blanc remains mobilised to implement the Strategy for the Future of the Mont-Blanc Mountain Range. A webinar to present the results of the European project AdaPT Mont-Blanc took place on 23 June 2020. A reporting event will also be held in 2021, to coincide with the 30th anniversary of the Espace Mont-Blanc.
Back to list