News
The Basel tram network extended to Saint-Louis!
February 2018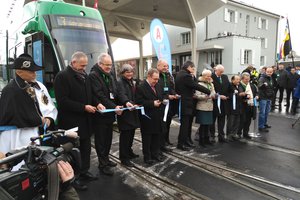 On 10 December 2017, the elected representatives of the Basel trinational conurbation had the pleasure of opening tram line 3 linking the centre of Basel-Stadt (CH) to the railway station of Saint-Louis (F). With this tram line it is now possible to travel from Saint-Louis station to Basel city centre in under 15 minutes.
The 3.4 km long new line extension (0.8 km in Switzerland and 2.6 km in France) required 29 months of construction work.

It marks the completion of a pioneering project made possible by the collective will of Swiss and French partners to make cross-border mobility a reality in the daily lives of inhabitants of the Basel trinational conurbation.

This new cross-border infrastructure represents an investment of 48,660,000 € co-financed by the French state, the French territorial authorities, the European Union, the Swiss Confederation, the commuter fund and Basel Public Transport (BVB).

This opening ceremony took place two years after the opening of cross-border tram line 8 between Basel Stadt (CH) and Weil am Rhein (D) and ten years after the realisation of the feasability study directed by the Basel Trinational Eurodistrict.
This new tram line will add to the attractiveness of the French territory, as it serves a region expected to undergo development thanks to the Euro3Lys project which covers the Lys district and the Technoport.
This will also be complemented by the planned extension towards the EuroAirport.
Back to list