News
The future of transport in the Mediterranean: the GEECCTT-ILES project
May 2017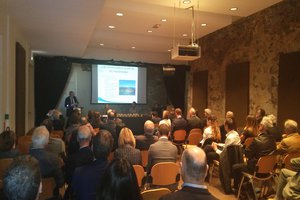 The project "Gestion Européenne Conjointe des Connexions et Transports pour les îles – GEECCTT-ILES" (Joint European Management of Connections and Transport for the Islands), which is aimed at creating transport links in the Western Mediterranean, has just been approved by the Interreg programme's monitoring committee.
The Corsican Transport Board has been designated lead partner by the other partners, i.e. the Autonomous Region of Sardinia, the Liguria Region, the port authorities of Sardinia and Tuscany, as well as the chambers of commerce and industry of the Var, Upper Corsica and Southern Corsica.
It was also for the Corsican Transport Board that the MOT carried out a study on winter cargo and passenger maritime services between Corsica and Sardinia. This technical assistance, which forms part of the first phase of the project underway, has provided preparatory work for the creation of a permanent structure responsible for wider transport links in the Western Mediterranean. In the meantime, maritime public service delegations, like those recommended by the MOT in its study, are in the process of being set up between Propriano and Porto Torres and between Santa Teresa Gallura and Bonifacio.
The GEECCTT-ILES project consists in setting up this structure in the form of an EGTC. This tool of European law1 should make possible the joint management of cross-border transport services (air, sea and multimodal transport services, etc.) with a view to achieving territorial continuity and taking account of environmental issues. Over the longer term, the objective is to connect with the Trans-European Transport Networks (TEN-T) in order eventually to create an Elba-Corsica-Sardinia economic area centred on a Tyrrhenian arc encompassing the Western Mediterranean islands and the North coast.
The launch seminar for the EGTC took place on 10 April 2017 in Bastia. The aim on this occasion was to bring together the different stakeholders, including elected representatives and technicians involved in cross-border cooperation. Thus, after the presentation of the EGTC tool and the stages of its creation, potential members were able to express their interest. Lastly, several concrete projects that have been implemented were presented.
The MOT summarised the proceedings by briefly presenting both its longstanding work with the region's players and notably its preparatory study for the Corsican Transport Board and the other EGTC assistance it is currently providing to the Corsican Environment Office2, and its technical experience of the EGTC tool. It emphasised the "toolkit" nature of the structure, which offers a flexible and adjustable framework that can vary depending on the needs of members, whose wishes shape it and give it its strength.

1 Regulation (EC) No 1082/2006 of the European Parliament and of the Council of 5 July 2006 on a European Grouping of Territorial Cooperation (EGTC) amended by Regulation (EU) 1302/2013 of the European Parliament and of the Council of 17 December 2013
2 Technical assistance with the preparation of documents for the first assembly of the Bouches de Bonifacio International Marine Park European Grouping of Territorial Cooperation (EGTC-PMIBB)
Back to list