News
The Nord Department celebrates 30 years of cross-border cooperation
November 2019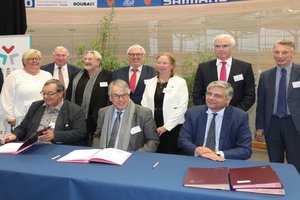 On Monday, 21 October 2019 at the Stablinski Velodrome in Roubaix, the Nord Department, West Flanders Province and Hainaut Province celebrated 30 years of cross-border cooperation.
Many political personalities and professionals involved in cross-border cooperation on both sides of the Franco-Belgian border came to shed light on the past years and expressed their desire to step up the actions carried out for the benefit cross-border populations.

Karl-Heinz Lambertz, President of the European Committee of the Regions (CoR), spoke about the evolution of cross-border cooperation. He stressed the importance of continuing to develop good relations between local authorities and national governments in order to improve the living conditions of the inhabitants of border regions. He recalled the importance of European instruments such as EGCTs, the MOT, the CoR and territorial cohesion.

After 30 years, the partners are once again joining forces in a cross-border strategy for the benefit of the region's inhabitants, in spite of the constant changes affecting the world in which they live.
Back to list