News
Launch of the Lille-Kortrijk-Tournai Eurometropolis's "Parc Bleu"
April 2018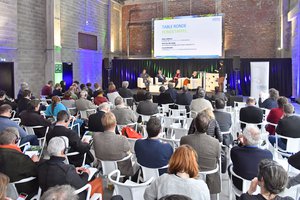 More than 100 people – elected representatives, technicians and civil society players – took part in the event on 22 March to launch the Lille-Kortrijk-Tournai Eurometropolis's "Parc Bleu".
This event, which was supported by the European Committee of the Regions as part of its initiative "Reflecting on Europe", was an opportunity to kick off the Eurometropolis's Parc Bleu by presenting a book, which will be available soon, and a website (www.espacebleu.eu, currently under construction).
The Parc Bleu is a network of natural areas that connect people to one another and to nature. Rivers, canals and waterways constitute its framework, to which villages and towns are linked. The park then forms a continuous space for people, animals and plants. While creating a park like this is an ambitious goal, it is an achievable one and is already taking shape in several parts of the Eurometropolis. Its aim is to make the cross-border region stronger and more visible.
While the Lille-Kortrijk-Tournai Eurometropolis is fortunate in being a territory that boasts numerous remarkable areas, many of them are not known by the general public and need to be publicised. The book, the website and the launch on 22 March are – or have been – an opportunity to show the potential of water, in all its forms, to be a means of connecting people across the territory, on both sides of the border.
The aim of the project is also to launch a call for a citizens' pact. All of the citizens of the cross-border region are concerned: its inhabitants, elected representatives, organised civil society, technicians, public bodies, businesses, and so on. The Eurometropolis has the role of coordinator and has undertaken to draw up a list of initiatives and to foster the emergence of new projects by means of partnerships.
Back to list