News
Trinational Agglomeration Basel unveils the contents of its toolbox for cross-border cooperation
November 2015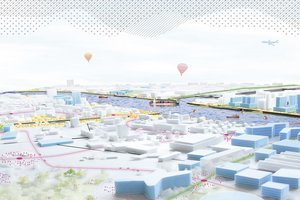 The seminar organised by the Council of Europe was an opportunity to examine cross-border cooperation activity organised around the work of the Basel Trinational Eurodistrict (ETB), the international architecture exhibition IBA Basel 2020 and the Basel Agglomeration programme.
The director of the ETB association, Frédéric Duvinage, explained to attendees how the work of the last twenty years had allowed the construction of two cross-border tramlines, a footbridge over the Rhine linking France and Germany, as well as the planning of two future footbridges and a road bridge on the Rhine between the three countries. He also described the planning processes underway which allow spatial planners from the three countries to work on a new vision of shared strategic spatial planning for the year 2030, and on the common development of a new trinational urban district, 3Land, situated at the France-Germany-Switzerland border tripoint, where the ports of Basel (CH), Weil am Rhein (D) and Huningue (F) are located. The latter project demonstrates the capacity of the stakeholder community in the three countries to work together in a process of co-construction, on strategic issues in urban development, which would have been unimaginable just twenty years ago.
Most of all, this seminar showed how elected representatives of the Trinational Agglomeration Basel support initiatives from its citizens and organisations from the three countries in the fields of sport, culture, the environment and training, either by a support fund, or by sponsoring projects like the slowUp (a cross-border cycling event), theatrical productions with a trinational dimension, and sporting events or gardening festivals.
Trinational Agglomeration Basel in figures:
- Approx. 900,000 inhabitants
- 97,000 cross-border workers
- INTERREG IV projects backed by ETB: 4,250,000 €
- EuroAirport: approx. 7 million passengers per year
More info:
www.eurodistrictbasel.eu
More info on the seminar organised by the Council of Europe
Back to list