News
European Seminar on democratic governance of cross-border areas
November 2015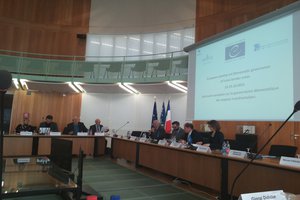 A European Seminar on democratic governance of cross-border areas was held on 22 and 23 October 2015 in Saint-Louis (France). The seminar was organised by the Council of Europe with the collaboration of the City of Saint-Louis, the Trinational Eurodistrict Basel, the Mission Opérationnelle Transfrontalière and the Institute of International Sociology of Gorizia (Italy).
Representatives of member States from the European Committee on Democracy and Governance of the Council of Europe as well as transfrontier cooperation bodies, institutes, practitioners and experts took part in the discussions.
An introductory report identified examples of citizen participation in the governance of cross-border activities.
Further exchanges during the seminar allowed to take stock of the legal instruments and tools developed by the Council of Europe and to highlight the latest research, trends and experiences in the field.
The seminar concluded that effective and active participation of citizens offers real support to the realisation of cross-border projects. Citizens' information and consultation as the ultimate beneficiaries of any cross-border cooperation initiative remain a guarantee of transparency and legitimacy of the decision-making process and consideration of the particularities of each border.
The seminar's conclusions and follow-up to be given will be examined by the CDDG in December.
More info
Read the article: "Trinational Agglomeration Basel unveils the contents of its toolbox for cross-border cooperation"
Back to list