News
Haute-Savoie – a border department
May 2014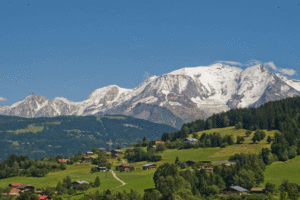 With its international borders with Switzerland and Italy, the department of Haute-Savoie, which has been a member of the MOT since 2012, cooperates with the cantons of Geneva, Vaud and Valais, as well as the Val d'Aoste autonomous region, in areas such as transport, territorial development, tourism, education, culture and sport.
Since 1973, the historic body for cooperation with Switzerland has been the Comité Régional Franco-Genevois (CRFG – France-Geneva Regional Committee). It carries out particularly innovative work in the areas of statistical observation and public safety. Most topically, and beyond all of the traditional subjects for cooperation, the CRFG is going to have to give its opinion on the introduction of measures aimed at developing cooperation in the areas of higher education, research and innovation.
A member of the Greater Geneva LGCC, the department's Conseil Général contributes with these partners to the development of the conurbation, which intends to implement a coordinated planning project up to 2030 designed to rebalance the territory with respect to jobs and housing. The France-Vaud-Geneva conurbation has also set the objective of developing an efficient and environmentally-friendly transport system.
Alongside the cantons of Geneva, Vaud and Valais and the Conseil Général of the Ain, the department is carrying out, within the Lake Geneva Council (Conseil du Léman), several projects contributing to the emergence of a strong Lake Geneva identity. Recently, this cooperation made it possible to carry out a statistical study that sheds light on the impact of the border at the level of the Lake Geneva Basin. The Lake Geneva transport coherence plan sets out up to 2030 all of the transport projects and studies sponsored by the Swiss and French territorial authorities under way in order to foster their coherence.
The Lake Geneva Council runs or supports many projects in the fields of culture, tourism and sport. Lastly, in the economic sphere, it works to bring together sectors of excellence on either side of the border (business conventions, etc.).
Conscious of the economic and demographic dynamism of the French-Swiss Chablais region, the Haute-Savoie Conseil Général wished to participate in the "Three Chablais" cooperation platform set up in 2012.
In addition, the Haute-Savoie department benefits from European funds under regional and rural development policy. In this respect, it co-finances many European projects but is also lead partner and partner in some of them. In 2007-2013, this involved 1,232 projects with total funding of €95 million (EAFRD, ERDF, ESF).

Photo : CG74 / Laurent Guette
Back to list