News
The Basque Country Community hosts the MOT General Assembly
September 2022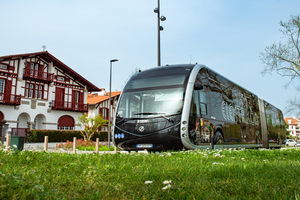 The MOT's annual event takes place on October 4th and 5th in Bayonne and San Sebastián. Read the editorial by Jean-René Etchegaray, President of the Basque Country Community, published for the occasion.
The editorial.
On the agenda: two round tables on "The multi-level approach, towards a Franco-Spanish strategy" and "Cross-border observation at the service of public policies", as well as a field visit. Find the full programme by clicking here [FR].
---
Since its creation in 2017, the Basque Country Agglomeration Community has developed an ambitious cross-border public policy and is implementing numerous projects with its partners from Euskadi, Navarre and Aragon and the New Aquitaine Euskadi Navarre Euroregion.

The first major cross-border project, the Hendaye multimodal interchange hub, named Elgarrekin, was inaugurated last June. The Euskotren and SNCF stations have been completely redeveloped and connected and benefit directly from all the mobility solutions of the Basque Country Community network: buses, coaches, bicycles, etc. The project also includes a cycle path connected to the Vélodyssée, along the Bidasoa. Still in the field of mobility, the Basque Country Community and its Mobility Syndicate have developed a new ticketing system allowing users in the North Basque Country to travel on the San Sebastian transport network with their season ticket. They have also encouraged the emergence of 100% electric buses and the preparation of a practical guide to cross-border mobility.

At the initiative of their respective presidents, who are very committed to the dignified reception of migrants currently transiting the roads of the Basque Country, the Basque Country Community and the Autonomous Community of Euskadi are working together within a dedicated institutional coordination body, which enables them to maintain a permanent dialogue on the subject.

In the field of higher education, the Basque Country Community has co-organised this year with the UIK Foundation, the universities of the territory, the NAEN Euroregion and the Diputacion Foral of Gipuzkoa the first edition of cross-border summer universities. The aim of this initiative is to develop the emergence of joint research programmes and exchanges between academics and students.
Lastly, as a historic event and the result of an initiative jointly supported by the Presidents of the Basque Country Community and the Basque Government, the start of the Tour de France in 2023 will be in Bilbao. The first three stages will go through Vizcaya, Alava and Gipuzkoa before reaching the Northern Basque Country.
Read the editorial by Jean-René Etchegaray, President of the Basque Country Community
---
We look forward to seeing you in Bayonne and San Sebastián on October 4th and 5th! More information.
The events will be followed by the first "cross-border meetings" of the Basque Country Agglomeration Community from the 5th to the 6th of October. More info


Photo: Communauté Pays Basque M. Prat
Back to list