News
The European Commission has just presented its 8th Cohesion Report
February 2022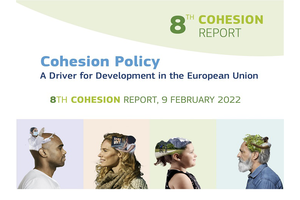 Every three years, the Commission publishes a report on the economic, social, and territorial cohesion in the EU, presenting the progress and the EU's role as a driver for regional development. It analyses the evolution of cohesion in the EU according to a wide range of indicators, such as prosperity, employment, education levels, and accessibility and governance.
The 8th Cohesion Report will feed the discussions at the upcoming Cohesion Forum (on 17-18 March), which brings together representatives of EU institutions, national, regional and local authorities from all Member States, social and economic partners, non-governmental organisations and academia. The Forum will debate how Cohesion policy can ensure that no region is left behind in the ongoing structural changes, and that all regions can reap the benefits of the green and digital transitions.

Cross-border cooperation is mentioned in particular in the "highlights" at the beginning of the report (page XXVII):

"Cross-border Strengthening cross-border and interregional cooperation. The pandemic highlighted the difficulties of having to cross a national border for work, education, healthcare and other services. Road and rail transport performance are lower in border regions. Addressing these issues requires better governance of functional border areas, a stronger coordination of services, infrastructure and investments, and exchange of experience supported by pan-European research."
Back to list