News
Cross-border innovation: Strasburg plans to recover the heat produced by the Kehl steelworks
June 2019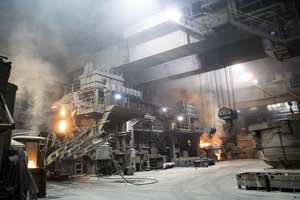 The Strasbourg Eurometropolis has launched a project aimed at recovering the heat produced by the Kehl steelworks in order to provide energy for 4,000 households in Strasbourg within two years. This innovative project is a first in Europe at the cross-border level.
Every year, the Kehl steelworks produces 2.2 million tonnes of steel and consumes the equivalent in terms of electricity needs of the city of Stuttgart. In order to recover the large quantities of heat that are currently released into the air by the steelworks, the project plans to build an 8.5km pipeline under the Rhine to transport the heated water from the steelworks to Strasbourg.
On 13 May 2019, a joint declaration of intent was signed by the partners. It provides for the setting up of a cross-border company that will take the form of a Local Public Company, owned mainly by the Strasburg Eurometropolis, as well as by the Land of Baden-Württemberg, the City of Kehl and the Grand Est Region. The cost of the project is estimated at €25 million. The partners are seeking to secure a lower rate of VAT and other financial assistance such as Interreg. The work is scheduled to begin in 2020, with delivery in 2021. Over the long term, 20,000 households could potentially benefit from this network. More info
Photo: Philippe Stirnweiss pour l'Eurométropole de Strasbourg.
Back to list