News
Hub/Banque des Territoires: a breakfast show devoted to cross-border cooperation
April 2022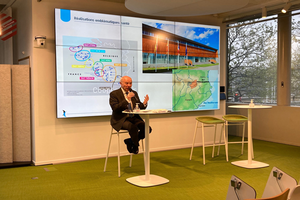 During this sequence programmed on 8 April as part of the Banque des Territoires and its Hub's "Europe and Territories" breakfast shows, Jean Peyrony, the MOT's Director-General, highlighted the major challenges of cross-border cooperation :
"Cross-border areas represent 40% of the EU's territory and cover 20,000 km of borders, including some 40 major conurbations. A third of Europeans live in these 'peripheries' that are often far from the concerns of countries' capitals. They also represent 2 million workers who cross a border each day, including nearly 500,000 French commuters who travel notably to Luxembourg and Switzerland. It is the numerous difficulties of daily life that cooperation has sought to remove for the past 30 years, with a few outstanding examples such as the Cerdanya Hospital, the Strasbourg-Kehl tramline and the Léman Express in Greater Geneva…"
The Nice Côte d'Azur Metropolis, which co-facilitated the sequence with the MOT, has succeeded in using the instruments available to its advantage: "The Interreg programmes make it possible to experiment jointly […]. Having launched a raft of projects between 2014 and 2020, the metropolis has set out a genuine strategy, as required by the 2014 MAPTAM Act, through its 'cross-border cooperation strategy' […] with funding from the government-metropolis pact and assistance from the MOT," points out Sébastien Viano, former head of European funding for the metropolis and now Deputy Director-General in charge of Europe for the Sud Region.
Read the whole article published in Localtis following this breakfast show sequence [FR].

µWatch the discussions in full online [FR]:
Séquence sur "La coopération transfrontalière territoriale".
Séquence sur "Les financements européens dans les territoires".
Back to list