News
Exploring cross-border integration in Europe: How do populations cross borders and perceive their neighbours?"
May 2018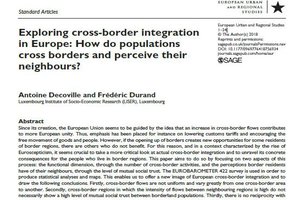 "Since its creation, the European Union seems to be guided by the idea that an increase in cross-border flows contributes to more European unity. […] In a context characterized by the rise of Euroscepticism, it seems crucial to take a more critical look at actual cross-border integration and to unravel its concrete consequences for the people who live in border regions."
Academic article published in the journal "European Urban and Regional Studies, 1-24", by Antoine Decoville and Frédéric Durand – Luxembourg Institute of Socio-Economic Research (LISER), February 2018.
More info

This publication is available in the MOT's document portal [FR].
Specialising in cross-border cooperation, the portal provides more than 4,000 document references.
Back to list