News
"Europe, countries, territories: a dialogue of the deaf?"
June 2019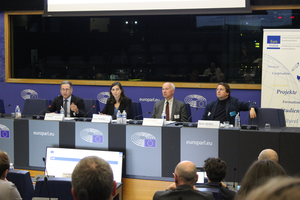 The MOT took part in this seminar organised by the Kehl Euro-Institut, in Strasbourg on 14 May. It was an opportunity for local, national and European players to exchange views on how to "better communicate between the different levels on cross-border issues".
The three complementary networks dedicated to cross-border matters – the AEBR, the MOT and TEIN (Transfrontier Euro-Institut Network coordinated by the Euro-Institut) – recalled the concrete services and assistance that they provide to players.
Back to list