News
Exchanging views and experiences to shape the future
June 2020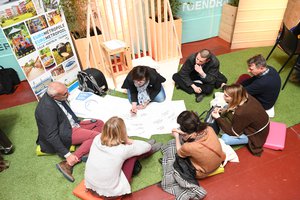 The current crisis across Europe has sparked criticisms, divisions and inconsistencies between countries, with significant impacts on the lives of people in border regions. However, the European Union – which is working to restart activity – is there to restore free movement in Europe, which is indispensable for the development of European citizenship. As a central part of the recovery, we need to rethink the challenges of the post-Covid period, such as education, agriculture, healthcare, trade, eco-friendly mobility and sustainable development.
The areas to be addressed are numerous, and European citizens must more than ever be actors shaping their own future. Our role is to work to connect citizens to Europe through closer dialogue and increased territorial cooperation. The new challenges facing Europe are pushing us to determine, in consultation with one another, the direction of our forthcoming action plans.
How can we achieve this by taking action at the local and cross-border level?
We have already tried this out with the Lille-Kortrijk-Tournai Eurometropolis's three-part event "Europe, je t'aime, moi non plus ?" spread over more than a year. Nearly 300 citizens from the cross-border region took part in the three gatherings. The objective? To collate people's concerns in order to identify areas for reflection and joint action over the long term. This citizen-focused mobilisation drawing on our collective intelligence was a success, as it brought together the Eurometropolis's inhabitants around the future of Europe.
They highlighted the need for a Europe that is more ecological, social, citizen-focused and closer to Europeans' current needs. The findings from the discussions will give us the substance and the energy to jointly set up the European Citizens' Space, which will provide the missing link between European institutions and citizens.
We would like to share this experience with other EGTCs, notably by means of the "Governance" working group launched by the MOT (with the Eurometropolis as co-coordinator), and within the framework of the "Conference on the Future of Europe". The role of this European Citizens' Space that is taking shape is to forge lasting links between the EU and its citizens, to re-establish trust and to offer an example of collaboration that can be reproduced anywhere where several cultures exist side by side.
More info
Read the editorial by Loïc Delhuvenne, Director of the Lille-Kortrijk-Tournai Eurometropolis.
Back to list