News
Closer cooperation between Strasbourg and Kehl
January 2022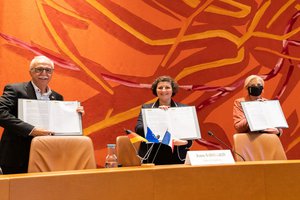 At their joint municipal council meeting that took place on 1 December 2021, the cities of Strasbourg and Kehl signed a cooperation agreement aimed at stepping up their exchanges and working on new cross-border projects. This initiative encompasses the competences of the Strasbourg Eurometropolis, which is a signatory to the agreement, thus marking a recognition of involvement at the intermunicipal level in the cooperation between the cities and the construction of a cross-border conurbation.
The metropolitan authorities intend to create an administrative community, and aim to bring their social and environmental policies in line with one another, to promote education and bilingualism, and to provide new opportunities for people from both sides to meet through closer cultural cooperation and the cross-border participation of citizens. It also wishes to develop a joint cross-border labour market and to work on coordinated urban planning within the framework of the Deux Rives initiative.
This agreement was discussed at the first meeting between the two mayors, Mrs Barseghian and Mr Vetrano, in July 2020, following the painful episode of the closing of the border and restrictions on border crossings in relation to the pandemic. It enshrines the desire of both sides to intensify exchanges through new initiatives that consolidate the reality of a cross-border living area.
Press release [FR]
The convention [FR]
Back to list