News
Construction of Greater Geneva: Switzerland and France linked by a railway tunnel
October 2016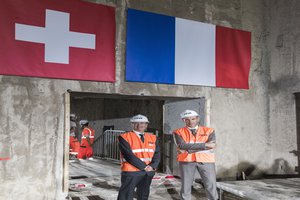 On 23 September 2016, the two sides of underground route of the future cross-border rail link between Geneva and Annemasse were joined up by French and Swiss teams.
A wall that served as the border was symbolically destroyed in the presence of authorities from the two countries. The visual identity of the "Léman Express" and its future fleet were unveiled.
In 2019, this cross-border regional rail service will connect Annemasse and Geneva in 20 minutes, thereby linking up the Swiss and French transport networks, with the aim of reducing the very high levels of congestion on roads in the cross-border territory.
Back to list