News
Borders Forum 21&22 June in Paris: focus on governance with three key testimonies
May 2022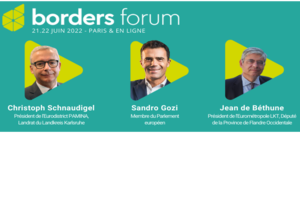 Sandro Gozi, MEP, Jean de Béthune, President of the Lille-Kortrijk-Tournai Eurometropolis, and Christoph Schnaudigel, President of the PAMINA Eurodistrict, talk to us about governance – a crucial subject at the centre of the second day of the Borders Forum. Register now as places are limited! You can also access the event's press kit.
The event, which is officially sponsored by France's presidency of the EU Council, is taking place on 21-22 June at the Cité Internationale Universitaire in Paris.

For the programme and all the event details, click here.
The press kit for the event has just been released: click here to access it. (printed version)
The press release published in May.
---
What do cross-border territories represent for you?
Sandro Gozi: Thanks to the European Union and its single market, cross-border territories offer great opportunities in terms of cultural and economic exchanges between Member States. Every day, millions of Europeans cross borders to go to work, do their shopping or take their children to school. However, many linguistic, legal and administrative barriers hamper this huge potential. That's why fresh attention needs to be given to these territories, also with a view to rolling out at European level enhanced integration mechanisms trialled at local level.
Jean de Béthune1: For centuries, border territories served as barriers between European countries. Since the 1990s, notably thanks to the EU, these territories have developed as places where populations meet and cooperate. But the work is not over. With the Memorandum to France's presidency of the EU signed by the three EGTCs along the Franco-Belgian border,2 I wished to draw attention to the ongoing importance of cooperation along the EU's internal borders, in the light of the legitimate concerns of populations that face obstacles linked to the border.
Christoph Schnaudigel3: Cross-border territories are often cross-border living areas, in which the inhabitants regularly cross the border. It's here that European integration takes place on a daily basis and where we become aware of the obstacles that impede and restrict cross-border cooperation. But these territories represent an enormous richness for Europe, since we can create major synergies there for our citizens and for territorial development.Les territoires transfrontaliers, grâce à l'Union européenne et à son marché unique, offrent de grandes possibilités en termes d'échanges culturels et économiques entre les États membres. Chaque jour, des millions d'Européens traversent les frontières pour se rendre au travail, faire leurs courses ou emmener leurs enfants à l'école. Toutefois, des nombreuses barrières linguistiques, juridiques et administratives entravent cet énorme potentiel, c'est pourquoi une attention renouvelée doit être accordée à ces territoires, également en vue d'étendre à l'échelle européenne des mécanismes d'intégration renforcée experimentés au niveau local.
What model of cross-border governance are we moving towards in Europe? What are the advances provided by the Quirinal Treaty?

Sandro Gozi: In cross-border territories, there are still too many barriers that hamper social development and prevent completion of the single market. To overcome them, we need to strengthen cooperation and try out new forms of integration.
The proposal to introduce a European Cross-Border Mechanism (ECBM) aims precisely to facilitate exchanges between cross-border regions, with the possibility for a local authority to adopt the other region's legislation. Its adoption must become an absolute priority.
The Quirinal Treaty signed by Italy and France aims to promote cooperation between the two countries in many areas. It will significantly strengthen the shared sense of European belonging and will enable a coordinated approach to address the new economic and political challenges.
Jean de Béthune: Thanks to the European Commission, in the Franco-Belgian territory we have structures (EGTCs) and resources (ERDF) that allow us to promote cross-border cooperation. But for these instruments to be used optimally, good cross-border relations are of crucial importance. Investing more in bilateral and multilateral dialogue without making the existing models more cumbersome will enable us to implement projects more effectively for the benefit of the cross-border territory.
Christoph Schnaudigel: Each cross-border living area is different, with its own history, and models of governance must take account of this. In addition, the existing systems must move towards greater recognition of the specificities of our territories, notably with appropriate competences for cross-border structures such as EGTCs. Another important element is complementarity between the different levels and players in this governance.
What are you hoping from the Borders Forum 2022?

Sandro Gozi: At a time when Europe is facing a war on its soil, even before it has overcome the crisis of the pandemic which devastated it over the past two years, it will be an opportunity to address and explore issues such as citizenship, the sense of European belonging, the green transition and the economic recovery from the point of view of cross-border territories. The Borders Forum 2022 is an excellent forum for reflection and a tool to discuss concrete outcomes, organisational solutions and the tools to be used to win this crucial battle on the road to progress.
Jean de Béthune: That Europeans can finally meet and gather again in person to get to know one another, exchange views, inspire one another and, above all, to continue cross-border cooperation. Recent events (terrorist attacks, Brexit, the pandemic and the war in Ukraine) show that borders remain vulnerable and that cooperation is more necessary than ever.
Christoph Schnaudigel: A fruitful exchange between the participants, with new ideas and inspirations for cross-border territories, especially regarding the upcoming challenges. I am convinced that the Forum will help to demonstrate the key role of cross-border living areas in the construction of a resilient, innovative and smart Europe.
---
1. Jean de Béthune is also Deputy of the Province of West Flanders.
2. The Lille-Kortrijk-Tournai Eurometropolis EGTC, West-Vlaanderen/Flandre-Dunkerque-Côte d'Opale EGTC and Scarpe and Escaut Plain EGTC.
3. Christoph Schnaudigel is also Landrat of Landkreis Karlsruhe

Back to list