News
B-solutions: new call for proposals
December 2022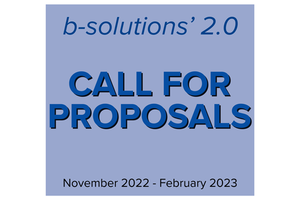 A new element of this call is that applications are reviewed on a rolling basis with immediate implementation. Deadline to apply is 28 February 2023.
The objective of this call for proposals remains the same: to identify further cases of legal or administrative obstacles which hinder cooperation across land and maritime borders between EU countries, EU-IPA countries and EU-EFTA countries.
Public bodies (cities, regions, hospitals, health agencies, …) or cross-border structures such as Euroregions and EGTCs are invited to submit cases of cross-border obstacles.

Selected cases receive technical assistance from legal experts: after a deep analysis, the expert suggests potential solutions to overcome the obstacle. Participation also helps raise awareness on cross-border cooperation and design better policies for European integration.

More info
---
*B-solutions and its extension b-solutions 2.0: Solving Cross-Border Obstacles are initiatives to tackle legal and administrative border obstacles along EU internal borders. They are promoted by the European Commission's Directorate-General for Regional and Urban Policy (DG REGIO), and managed by the Association of European Border Regions (AEBR).
Back to list