News
MOT general assembly: many projects in sight!
February 2023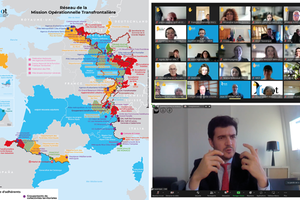 The first MOT general assembly of 2023 was held virtually on February 7th, with more than 80 participants online, including many elected representatives from all over France. The validation of the budget and the 2023 work programme, the presentation of the new members since the last General Assembly (the Community of Municipalities of Guillestrois Queyras, and the Department of Meuse) and a debate with David Djaïz, General Rapporteur of the National Council for Refoundation, were all on the agenda.
President Christian Dupessey* announced that the next General Assembly will be held in Metz, on the France-Germany-Luxembourg border, on the 27th and 28th of June 2023, at the invitation of the Moselle Department and the Metz Eurometropolis.
A REFLECTION ON THE EVOLUTION OF THE STRUCTURE
The president informed the whole network of the follow-up to the call of elected border representatives launched at the General Assembly in Bayonne in October: "following our exchanges with the minister Dominique Faure, and a working meeting held in January, we will draw up a "road map" by June.
Its purpose will be to work with each of our national members to specify their commitment to cross-border cooperation, what they expect from the MOT association, and its role". He announced the course to be followed:
In the first half of 2023:

a "national" pillar with the drafting of the roadmap and an exchange on the status which will be discussed at the General Assembly in Metz;

In the second half of 2023:

a "network" pillar with the launch of an "association project" which will aim to debate the values, objectives, functioning, and means of the MOT. It will be drawn up with all members and partners. The association's project "towards 2030", and the three-year programme 2024-2026, can then be approved at the General Assembly in early 2024.
A DENSE WORK PROGRAMME FOR 2023
The annual work programme was detailed and then voted unanimously. It is divided into three areas.
Details of some of the new features:

FOCUS 1: PROVIDE A FRAMEWORK AND AN OVERALL STRATEGY FOR CROSS-BORDER COOPERATION
Support for the relaunch of the "European cross-border mechanism 2.0
Follow-up of the draft "Schengen Borders Code" regulation
Support for the organisation of cross-border NRCs (see below)
Support to the 21/27 programming
Work on cross-border observation
Follow-up of the DG REGIO/OECD pilot action with three border sites at the French borders
Support for cooperation in the framework of bilateral treaties
Organisation of events (two with the General Inspectorate for the Environment and Sustainable Development, another on maritime borders, etc.)
Continuation of the European cooperation MOT/ARFE/CESCI

FOCUS 2: FACILITATE PROJECTS AND ACTIONS BETWEEN CROSS-BORDER ACTORS
Annual event in Metz in June
A colloquium on France-Luxembourg bilateral and cross-border cooperation
Publication of a cross-border statistical study with the Observatoire des Territoires
Preparation of a booklet on health cooperation
A training course with the CNFPT ("The cross-border DG")
Undertaking of the redesigning of the website

FOCUS 3: DESIGN AND IMPLEMENT CROSS-BORDER PROJECTS
Support for the DCP programme (alongside the ANCT) with individualised support for border sites, the setting up of an animation component for border DCPs; and support for the France Services programme
Numerous supports for territories such as: Ardenne Transfrontalière, Alzette-Belval, Massif du Jura; and participation in Interreg projects (2 Alcotra ISO1 projects in the process of being set up on observation and governance)
AN EXCHANGE WITH DAVID DJAÏZ TO PROMOTE CROSS-BORDER NRCS
The General Assembly ended with an exchange with David Djaïz, general rapporteur of the National Council for Refoundation (NCR), who presented the NCR's approach and its methodology based on 3 principles:
- A partnership between the State, organised civil society, and public authorities.
- Differentiation and territorialisation: the major national objectives are based on territories and differentiated analyses according to local issues.
- An objective method based on facts and observation.
David Djaïz emphasised the "tailor-made" dimension of each NCR: "once the project is mature, it is financed by a dedicated fund to provide local actors - according to the relevant scale - with the means and tools to enable them to meet the defined objectives".
Four major themes are highlighted: education, health, employment and ecological transition; with a geographical unit recommended for setting up each NCR project: that of the "living area".

As these major themes are at the heart of the issues of cross-border living areas, each member is invited to apply for the organisation of cross-border NCRs. The MOT is at the disposal of each of them to support and accompany them in their approach.

More information: https://conseil-refondation.fr/
---
* Mayor of Annemasse, President of the Metropolitan Pole of the French Genevois
Back to list