News
Aquitaine-Euskadi: Boosting cross-border employment
March 2018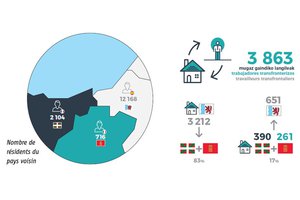 A study, launched within the framework of a European project,* sets out a comprehensive assessment of cross-border employment in the Nouvelle-Aquitaine Euskadi Navarra Euroregion.
The figures presented on flows of workers point to a low degree of cross-border integration in this domain: only 3,863 people cross the border every day to go to their place of work in the Euroregion, whereas 170,000 workers cross the Franco-Swiss border, and 46,000 the Franco-German border.
Of these cross-border workers, 87% are Spanish, with the majority of them living in France and making the journey from north to south. Against the backdrop of this assessment, which provides numerous statistical data (demographic, economic, tax, social, etc.), the aim of the project will be to propose actions to better integrate the region's labour markets and facilitate access to jobs on either side of the border.
The MOT has assisted the Euroregion in carrying out this major study.
Figure: On the left: Number of residents from the neighbouring country

More info [FR]
* The "Empleo" project ("Strengthening Europe: development of an Aquitaine-Euskadi Euroregional employment area"), funded by the Interreg programme POCTEFA.
Back to list