News
30th Congress of the European Cross-Border Grouping in Annemasse: Michel Charrat re-elected Chairman
May 2014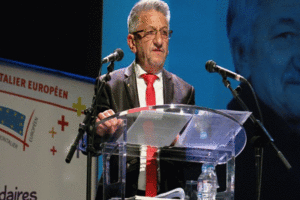 The 30th Congress of the European Cross-Border Grouping (Groupement transfrontalier européen – GTE) was held in Annemasse on 30 April, bringing together nearly 1,000 French-Swiss cross-border workers. With 36,000 members, the GTE renewed its confidence in its Chairman Michel Charrat.
In spite of the negative changes that have taken place this year regarding the status of French-Swiss cross-border workers,* the many issues tackled and fought for by the GTE were recalled: the exemption from CSG-CRDS social security contributions, health insurance, unemployment benefit at the full rate, hospital charges in Geneva, optional retirement and survivors insurance (AVS), second-pillar taxation, the transfer of unemployment insurance contributions, border workers' French pension, etc.
Christian Dupessey, the Mayor of Annemasse, stressed the GTE's remarkable work", and Michel Charrat underlined: "Like others, we could have continued the battle of wills with the Government, published untruths, protected individual interests and persuaded you that a solution was possible! We have the profound conviction that we would have led you down a dead-end with the risk of harming the interests of many people." And Christian Monteil, President of the Conseil Général of Haute-Savoie, addressing the audience: "Choosing Geneva is not opting for an easy life. You have taken the risk of being unloved. You deserve recognition, especially for the economic impact that you have."
* End of cross-border workers' right to choose with respect to health insurance from 1 June 2014 confirmed by the Government, the change in taxation at source, the vote on 9 February.
Back to list