News
25 years of Interreg, projects take pride of place!
September 2015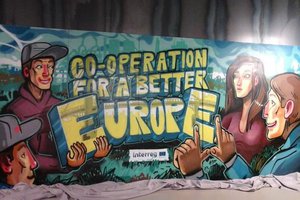 "Reconciling citizens with Europe" is the message we will take from Interreg's 25th anniversary, which was celebrated on 15-16 September at a major European conference organised at the emblematic location of Esch-Belval by the Luxembourg presidency, the European Commission and the Interact programme.
Examples of projects aimed at the inhabitants of territories along all of Europe's borders were showcased, demonstrating that Interreg is a crucial tool for cooperation between regions and helps to bring populations on either side of national borders closer together.
A roundtable devoted to the major topic of the cross-border labour market was introduced by Olivier Denert, the MOT's Secretary General. Among the issues identified, the lack of data and the need for better observation of cross-border dynamics were underscored.
To conclude the conference, Walter Deffaa, the Director General of DG Regio, stressed the need for Interreg programmes to be more targeted and strategic. He also emphasised the importance of a "new vision" to develop border regions, reduce administrative and legislative obstacles and simplify programmes. To do this, the Commissioner Corina Cretu announced the launch on 21 September of an EU-wide public consultation on the remaining obstacles to cross-border cooperation.
"Interreg is the most European part of cohesion policy, because its purpose is to show how to cooperate across borders. This is the key instrument of European integration which should be known to the general public," he said, regretting that only 31% of European citizens living in a border region know about Interreg.
Read the editorial from Jean Peyrony, Director General of the MOT: "Interreg is 25 years old!"
Back to list